JOIN our PET PHOTO PARTY through FRIDAY!
Custom Pet Painting GIVEAWAY!
Welcome all you Fur Ball Fanciers!
It's time to party again.
Puppy Love Photo Party.... & Cats
Hope this past month has treated you all well ...
no nasty fleas or ticks in your fur.
In case you missed mom's last post ... here ... today is also the start of
Wimbledon.
Just in case you were wondering about the picture of me and my bro.
As you can see ... we're kind of a tennis family.
Anyhoo ... also today ... our cousin Hudson ... is visiting us from ...
dum ... da .... da ... dum ....
San Diego.
Hudson is the energizer bunny of ... well of ... dogdom. We always have a great time
when he's here.
We also wanted to tell you about this month's "giveaway." It's super cool.
I'm hoping I get to pick the winner ... maybe I"ll just write a random number in the dirt.
(Who am I kidding ... she won't let me do that)
Anyway ... these new paintings are going up in mom's Etsy Shop today ... and the winner
will get their "mug" on a canvas painting of their very own.
How sweet is that?
Do ya recognize this handsome bod?
How about this lanky kid? Of course that's ... who else ... Hudson.
You can check out her Etsy Shop to see how to get your own ... if ya don't win.
They come in lots of sizes. If you do win ... you'll get a
12 inch by 16 inch
Silhouette Canvas Painting
OF ME!
Nah ... just kidding ... not of me. We'll give ya more details on Saturday.
Remember ... the
Party Rocks On til Friday at 5:00
You can link-up anytime between now and then.
Okay

...
it's your turn. Here are a couple of things you need to know first.
1.
Create a post on your blog with one ... or more photos of your pet.
2. Grab a
PUPPY PARTY BUTTON
for your site.
3.
Submit the
URL
for your
PET POST
in the Linky Tool below.
*** please don't enter just your website URL...we need the actual pet post URL***
4.
Please ... if you would ... follow your host ... oh yeah ... that's me!
5.
Finally ... visit the other submitters and leave them a
sweet comment.
__________________________________
You may link up
until
... this Friday ... June 29th ... at 5:00 P.M. PST.
Saturday ... June 30th ... I'll feature some of your babies on my post ...
and announce the
winner
of the giveaway.
***Had an issue earlier with the back link....but hopefully it's fixed.
Let me know if you have any problems. ***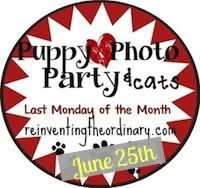 Okay ... you're all set! Hit the button and
Link Up....