Welcome back to our
Pet Parade Part II
First ... let me again say ... thank you .... for partying with us !
Get ready for next month.
Monday ... June 25th!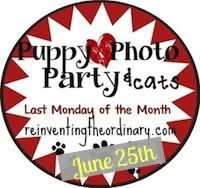 Help spread the word ... Grab a Button.
***next month special gift for inviting a new partyier***
Also special congrats to
They won the $20 Petsmart gift card.
***Oooh...any ideas for next month's giveaway?***
Okay ... that's it for today... now here's the rest of our BEAUTIES!
Here's Rosie a darling chihuahua.
Here's sweet Greeley. I'm partial to Yorkies ... can ya tell?
C'mon Greeley ... this potty training is easy .... you can do it!
Sadie ... Sadie pretty lady.
Mrs. Newlywed Giggles.
They're a "funny" bunch....get it?
Oh
Jack
... you really are so Zen!
Last but not least ... Delilah.
Looks like Delilah could fall asleep anywhere.