Welcome to our
Puppy Love Photo Party & Cats #2
Our family has been busy this month ... as you may have seen
HERE
... at

Newport Beach

for a BIG 1st Birthday Bash for my g-baby Parker ... and
HERE
... in Beverly Hill

s

as we took my dad for some surgery at Cedar Sinai.
While we waited ... I made my debut on
Rodeo Drive ... Beverly Hills ... California!
Ooh ... la ... la.
The Paparzzi were abuzzin' . I had 6 people take my picture.
I think it was my outfit. Mom was takin' orders right and left.
Like Will Smith says ...
"I make this suit collar look good."
Tiffany & Company
Just buyn' a little bauble for the ladies ...
Versace's
Comin' back here to buy something for mom when my royalties kick in.
Juicy Couture
Yeah ... I'm lovin' this chair. Mom loves black and white stripes ...
HERE
We did buy some stuff here ... did you know they have dog stuff here?
I do now!
Then back to rest up at the
Palomar Hotel.
I'm gonna miss this place. You guys gotta come here.
They just love our kind here ... serious!
Oh ... and by the way ... my dad's doing fine. Everything went AOK.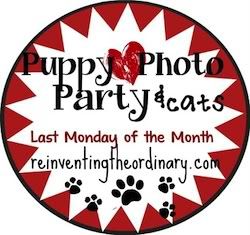 Here's how to enter:
1. Create a post on your blog with one
...
or more photos of your pet.
2. Grab our Puppy Love Photo Party & Cats Button and place it on your post.
3. Submit the URL for your PET POST in the Linky Tool below.
*** please don't enter just your website URL...we need the actual pet post URL***
4. Please ... if you would ... follow your host ... oh yeah ... that's me!
5. Finally
...
visit the other submitters and leave them a
sweet comment.
__________________________________
You may link up
until
... this Friday ... June 1st ... at 5:00 P.M. PST.
Saturday ... June 2nd ... I'll feature some of your babies on my post ...
and announce the
winner
of the giveaway.
She won this cool blanket last month ... from mom's
Etsy Shop.
She looks so comfy.
___________________________
Here are the first two entries from my Non-Bloggin' Friends.
Jamie's ... Barney
Gina's ... in memory of her sweet Daisy.
Okay ... you're all set! Hit the button and Link Up....